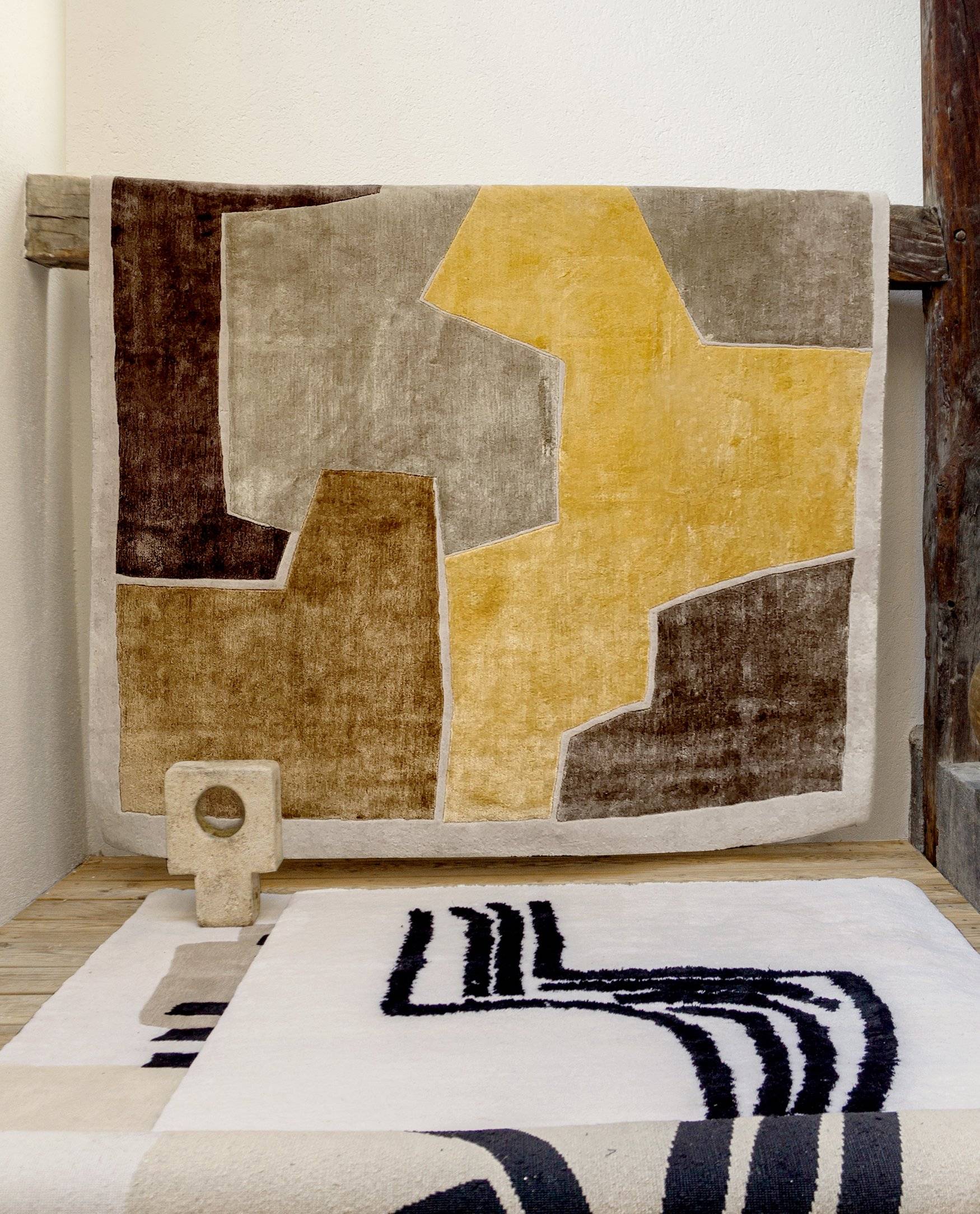 ÉDITION DE TAPIS BY THOMAS COCCIMIGLIO 
A new collaboration with French artist Thomas Coccimiglio.
Born in Belgium, Thomas graduated with an M.A in arts and design in Brussels.
Throughout his career, he collaborated as a textile designer with high-end and contemporary fashion labels.
After a decade of traveling for work, he has now settled down in a studio in Burgundy,
France where he creates hand-painted and custom made artworks for his international clients.
Modern meets craftmanship.
These first Editions of art rugs are series of Thomas's artworks translated with the finest quality of hand-knotted
Tibetan wool and silk yarns which can take between 2 to 6 months to be completed.


What is the process of creating your rugs? How do you start?
It always starts with a story in my head, of a place, a scenario which will lead me to sketch slowly ideas and to produce forms and objects that fit with that specific story.

 Where do you get your inspiration from?
I have the chance to be surrounded by creative friends and inspiring fashion clients who I work with, my inspiration often comes from a dialogue with them. I am also extremely sensitive to the past, I like to look at vintage pieces and imagine how they can be translated in a contemporary way with the mediums I have.
 
How do you select the colors and combinations?
I start with emotional pictures I found in books, editorial or even on my phone - then I focus on more pragmatic decisions, thinking of existing interiors, and how colors are going to last forever and still look contemporary in 50 years time.

Which piece are you most proud of?
Probably, The next piece I will design.
 
Do you believe there is a link between art and fashion?
Whatever medium that helps create a story for me can be considered as art.
In that sense Fashion is an incredible platform to include all the art forms I love prints, music, architecture, sculptures.

What are your future plans?
In 2021 I would like to focus on Éditions De Tapis, I still haven't met in real life all the amazing artisans I have been working with for the past few months, I hope we can travel again. I would also love to work on a hotel project.. and sketch different rug pieces for each single room.

How would you describe your own work?
Perhaps timeless, poetic and imperfect.